Opticians
We Are Certified Dispensing Optician In India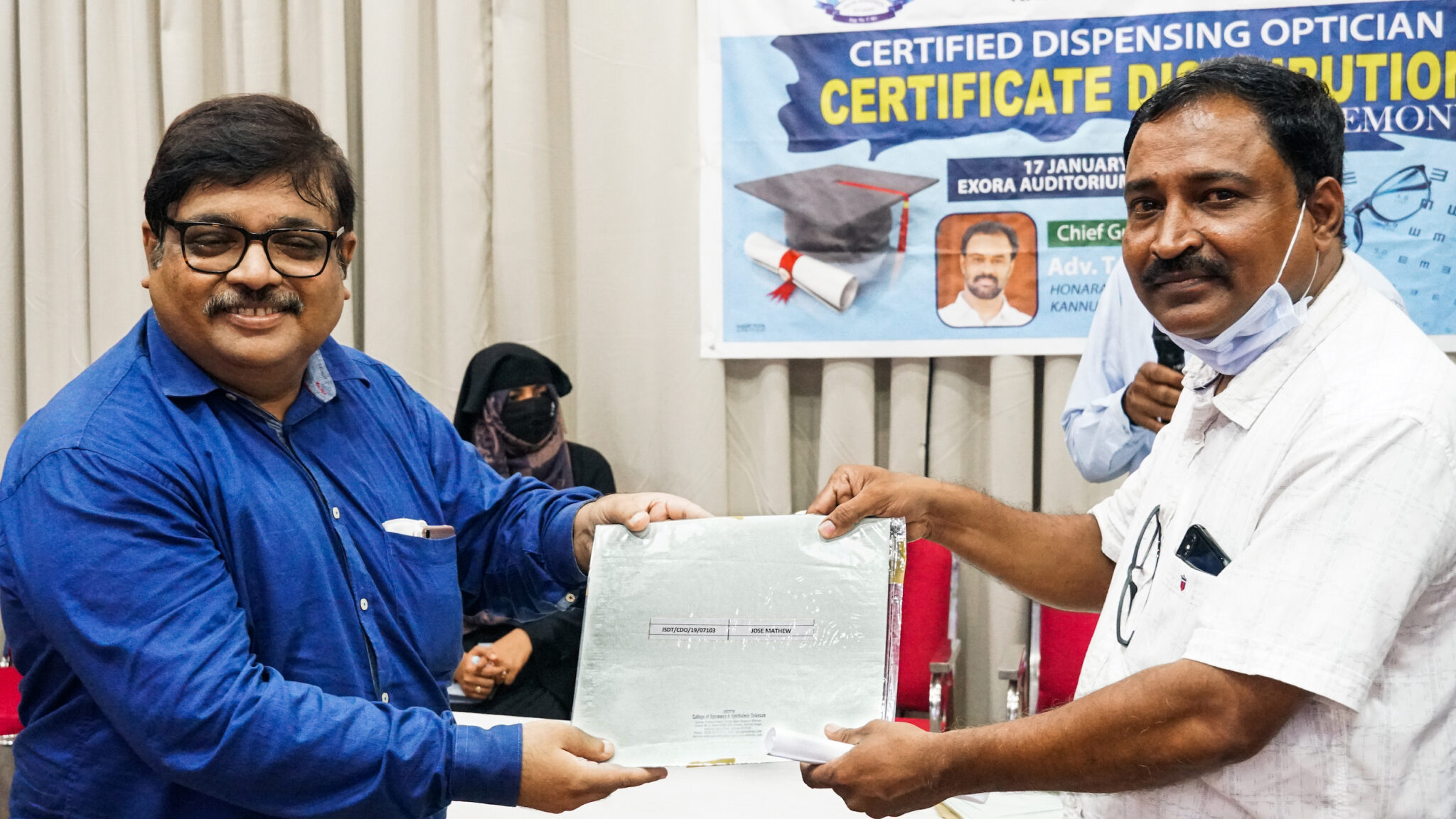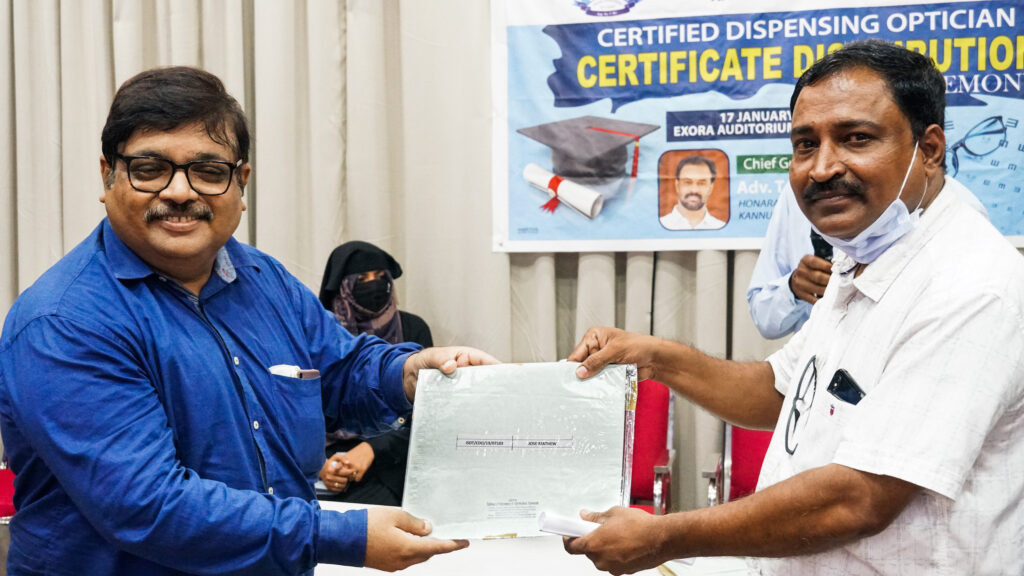 Nayanam Opticals & Eye Clinic is a certified dispensing optics in India.
So here is how we became the certified dispensing optician in India,
The institute started the Certificate Course in Ophthalmology Elimination, which led to the obtaining of the Certificate of Specialist Optometrist (CDO) in 2006. The course is designed in accordance with international standards in Optometrist based on courses offered in Western countries such as EE. USA, UK, Canada, etc.
ISDT tries to bring the minimum standards and standards for the optometrist, as well as define the role of the optometrist in the field of eye care.
The objective of the course is to raise the level of optometrists in ophthalmology distribution, perfect their theoretical knowledge and train them to use it in daily practice. Certify them to help them survive and thrive in the competition, as well as in the dynamic business and legal environment.
. Certified Drainage Optometrist (CDO) is an advanced training course in Ophthalmology.
. The course is specifically designed for working optometrists and individuals associated with the eye care field.
. The course is a comprehensive introduction to the concepts of optics and ocular distribution.
. The course focuses on updating the critical skill set for optometrists working to provide better and more accurate services and products according to customer needs.
. The course is presented in easy-to-understand language with many diagrams and pictures so that theoretical concepts can be well understood and applied in practice.
. The course attempts to present / define the optometrist's range of providing eye care and visual aids.
. The course aims to help the optometrist improve their practice through a better understanding of the theory behind dispensing, improving technical knowledge and vocabulary, and improving communication with the client.
Membership Certificate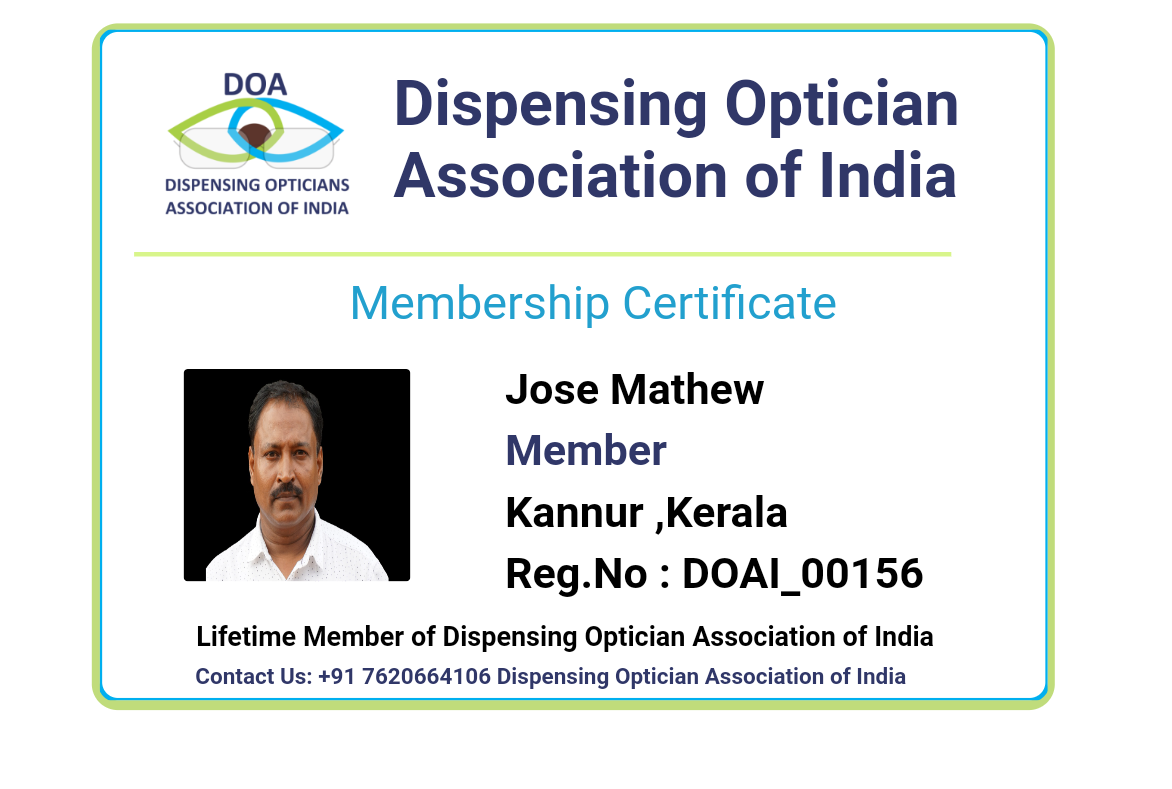 ID Card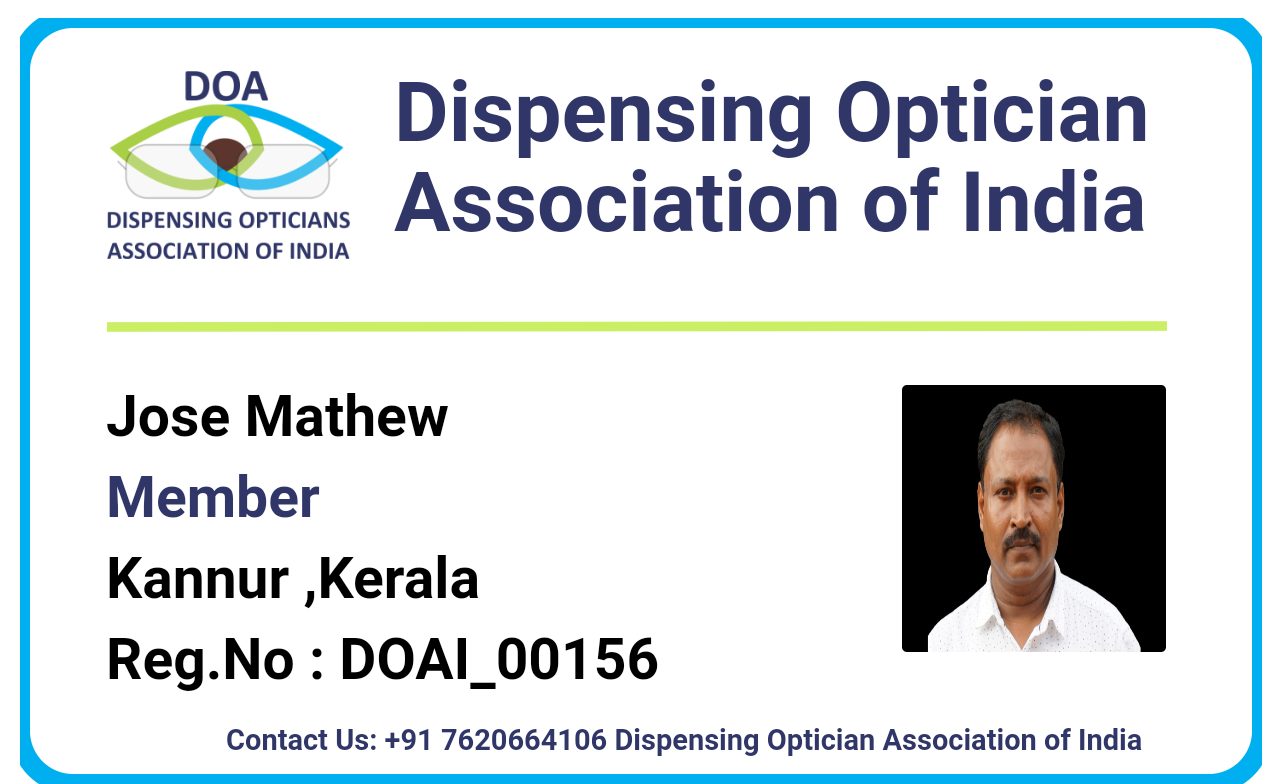 Special Thanks to Mr.Devan C Joshi
We are the nearest certified dispensing opticians to people from Kannur that includes the following localities :
Payyanur, Kannur
Thalassery, Kannur
Taliparamba, Kannur
Payyambalam, Kannur
Valiyannur, Kannur
Thavakkara, Kannur
Azhikode, Kannur
Talap, Kannur
Kannur Cantonment
Kuthuparamba
Mattannur
Ancharakandy
Chala
Chelora
Cherukunnu
Cheruthazham
Chirakkal
Chockli
Dharmadom
Elayavoor
Eranholi
Iriveri
Kadachira
Kadirur
Kalliasseri
Kanhirode
Kannadiparamba
Kannapuram
Kottayam-Malabar
Mayyil
Mavilayi
Munderi
Muzhappilangad
Narath
New Mahe
Paduvilayi
Pallikkunnu
Panniyannur
Panoor
Pappinisseri
Pathiriyad
Pattiom
Iritty
Peralasseri
Peringathur
Pinarayi
Puzhathi
Thottada
Valapattanam
Varam
Share on Facebook
Share on Twitter
Share on Pinterest