Eye Checking
Eye Checking in Kannur: Importance of Eye Exams
Eye is the most important part of our body. It enables us to enjoy the beauty of this world and appreciate the supreme power behind it. We cannot even suppose a life without this blessing from the God. But to keep our eye healthy and strong is a real challenge especially in this era where visual effects play a huge role in every day's life. Nayanam Opticals & Eye Clinic is a best store for eye checking in Kannur.
Importance of Regular Eye Exams
Here are the five reasons for why you should have regular eye check-ups to keep your vision sharp and healthy.
Early Detection is Crucial
As we all realized, prevention is better than cure. Early detection of vision problems helps us prevent them and keep our eyes strong. Therefore, regular eye check-ups must be an important priority in our life.
We all may have the impression that as long as we can see well, we don not need a special check-up. But we might be wrong. Also, if we can detect a problem at the early stage, we will be able to solve it with less effort and money.
It Is All About Your Life
Life is unimaginable without power of vision. God has given us this great blessing so that we can see each other and other beautiful creations. Vision is all about life. Of course, we do remember visually impaired people. But they have the most beautiful vision, the vision of heart.
Further, we need good eyesight to keep ourselves and others safe. Sharp eyes protect us from accidents. According to studies, people develop presbyopia in their late 40s. Presbyopia reduces the ability of vision to focus for near objects. A routine eye check-up may help reduce presbyopia and keep eyes healthy.
Eye Health is Key to Success
We need healthy eyes to perform better in our profession. Also, our children need good vision to focus on their studies. Every profession, be it driving or cooking, requires sharp vision.
You may already know that employers ask about your eye health at the time of interview or recruitment. An annual eye check-up can ensure we are still good at our profession and our children see things clearly. We at Nayanam Opticals and Eye Clinic offer the best eye checking in Kannur.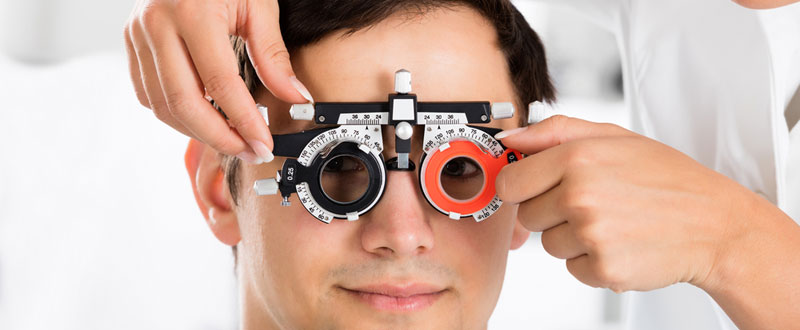 Help to Identify Other Health Problems
Another reason for why you should have a routine eye exam is that it helps you identify other health problems. An expert optometrist can use your eye evaluation report to check your overall health status.
As per the health studies, in-depth evaluation of the blood vessels in the eye can help identify major health problems including high risk diseases such as Diabetes, Hypertension, High cholesterol, Thyroid, Cancer, and Tumours. In other words, your eyes could be the windows to your health.
Prevent Digital Eye Strain
Today's world of digital technology has been making a negative impact on our eye health. Everything we do today involve a screen; television, mobile, computer, e-readers, tablets, etc. Digital eye strain- DES or computer vision syndrome is prevailing among more than 50% of computer users, A study reports.
The case is more dangerous with the children. Many digital devices which they use at school and home create long-term effects on their young eyes due to the emission of short-wavelength, high-energy, blue and violet light. Hence, routine eye check-ups will help us and our children measure the impact and take action accordingly.
How Often We Should Take Eye Exams?
Then, how often we should test our eye health? The need for an eye check-up depends upon the age and our physical health. Doctors usually recommend the following schedule: age six months, age three, age five or six– at the time of joining school and every two years after that. Then, at least every year from age 41.
The individuals whose profession is highly demanding for visual engagement are directed to test their vision health and eye power more than once in two years. If you go for an eye checking in Kannur, Nayanam Opticals and Eye Clinic is the best choice.
Nayanam Offers Quality Eye Checking in Kannur
Nayanam is a reliable and well-established store providing quality opticals and eye checking in Kannur. Our eye testing services are well appreciated by the customers thanks to the expertise and experience of our optometrists and ophthalmologists. Nayanam enjoys an immense experience of four decades in this field.
So, if you are looking for a quality and affordable eye checking in Kannur, we can be your perfect choice. Our doctors closely examine your eye evaluation to detect the vision problems and overall health status. They prescribe the right solution that fits your specific health needs and requirements. We also schedule routine eye exams for you based on your eye health.
Share on Facebook
Share on Twitter
Share on Pinterest